The Seal/No Seal Group was formed to respond to the age-old industry question about the value of sealing concrete pavement joints. Its mission is to develop a committed membership that takes responsibility for determining the long-term effectiveness of sealants in concrete pavements.
As cost pressures continue, there is increased interest in eliminating transverse joint sealants as a means of lowering the cost of concrete pavements. However, there is a lack of data in the industry to help guide owners about sealant effectiveness and the long-term impact of using or not using such sealants.
To learn more about the current research, click on the News & Resources tab. To join the effort, click on the About Us tab.
"Our role is to gather the necessary information to help owners make informed decisions that will ensure long-term effectiveness and best use of their concrete pavements."
Group Co-Chair Scott L. Eilken, owner of Quality Saw & Seal of Bridgeview, Ill.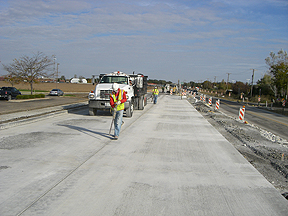 Shown here is the hot pour sealing of the control joints on the test sections for a project in Joliet, Ill. The project involved sealing the transverse and longitudinal joints, including the curb joint, with hot pour sealant.
The Latest Findings…
Final results are in on the SNS/TTI Research!